New Salesian Cooperators
Thursday the 16th of June
At recent retreat in honour of Mary Help of Christians at Savio House saw the enrolment of three new Salesian Cooperators. One of the trio, Danny, reflects on the experience and vocation journey that led him to this commitment.
Blessed, broken, poured out, and shared
This was the focus of our reflections on the recent Cooperators Retreat ahead of the Feast of Mary, Help of Christians. Gathered at Savio House and led by Rector Fr Martin Coyle we took these words from a worship song well known to many of us who have been involved with Salesian Youth Ministry as a starting point to gather and reflect on our Salesian identity. This was for many of us the first time since COVID we had been able to gather properly with our Salesian family, and as Fr Matin reflected, whatever our individual views or politics, we could all agree that the world feels quite broken after the challenges of the last few years.
This retreat was also an opportunity for three of us to make our promises and join the Cooperators. Ryan Wilkinson, Lilly Parr and I have all been on the team at Savio, and through SYM continued to gather there to work with young people, and plan and reflect on our summer camps and other projects before the pandemic. During our preparation online it quickly felt like it was the place which made the most sense for us to formalise the commitment to the young, especially the poorest and most marginalised that is the heart of the Salesian charism and the Cooperators that youth ministry had allowed us to explore over several years.
The quote which best captured this for me came on social media from a source we will keep anonymous; lets call her Wate Kilkinson – "It's about bloody time!" (If this will the theme of our next retreat remains to be seen). Through being on team at Savio, overseas with BOVA and an animator with SYM I've always known of the Co-operators. I've heard about my great-grandmother Annie Walker who was a Cooperator at Thornleigh, and various friends have either been, or become Cooperators while I've known them. My answer, when asked why I wasn't a Cooperator had always been along the lines that I was volunteering and following the Salesian charism anyway, so why would it make a difference? Drawing back to the theme of our retreat - it is a shared mission. The three of us who made our promises recently are part of a growing 'Detached' Cooperator group, we don't have a local group, but will seek to support each other linked through our experiences and commitment to the young, and a better world for and with them. The challenges of society today; poverty, lack of opportunity, corrupt and incompetent politics as recognisable to Mama Margaret and earliest Cooperators at the Valdocco Oratory as the most recent here in the UK. The world does feel broken, but it has felt like this before. But 176 years on the world also continues to be blessed. My friends in the Salesian family have always been part of that blessing to me, and now it's all just a bit more official!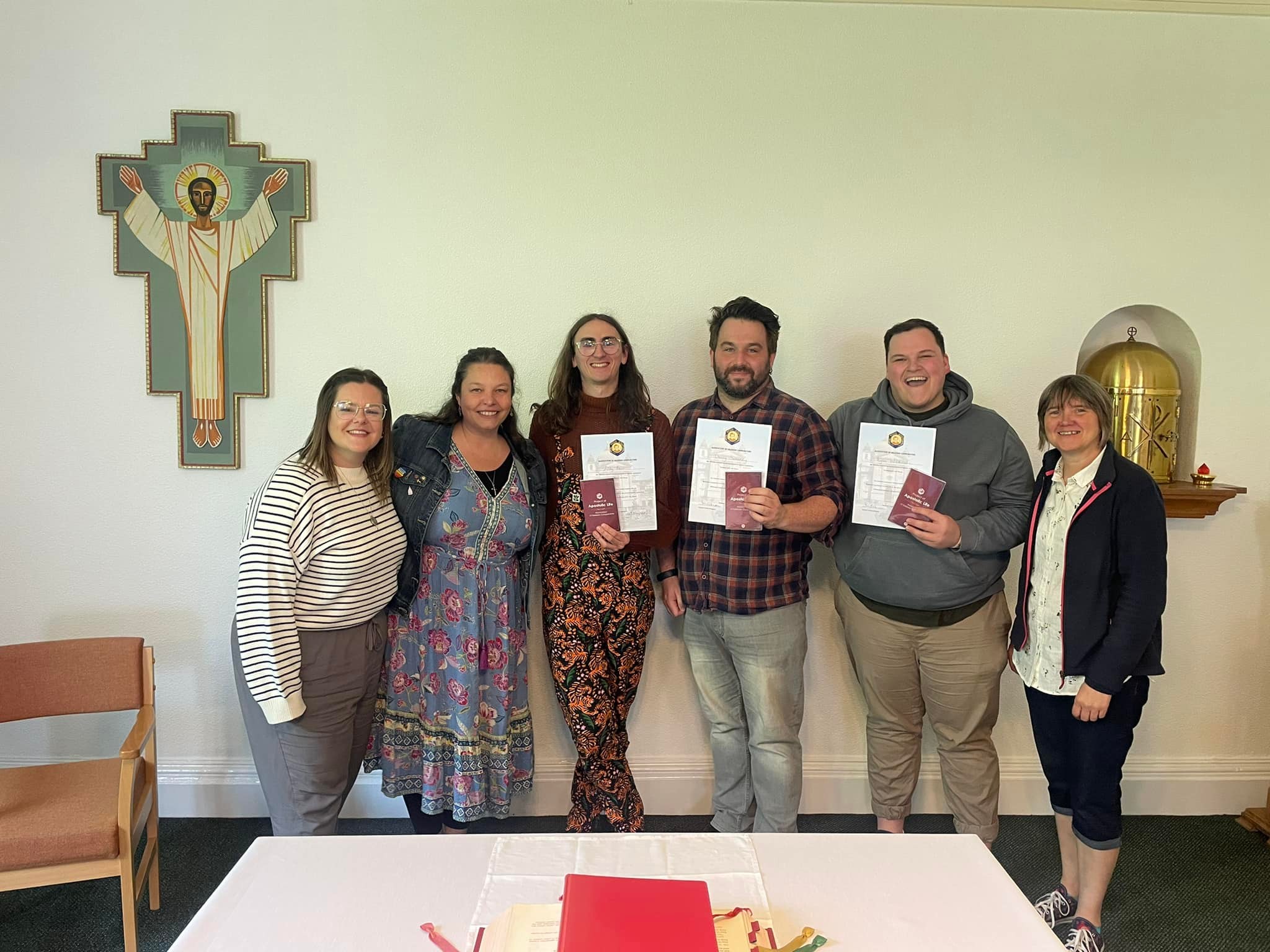 New Cooperators Lilly, Danny, and Ryan
Please pray for Danny, Ryan, and Lilly who were enrolled as Salesian Cooperators during this retreat. Also for Bernie who took part in the same formation course and will be enrolled soon in Lourdes during a forthcoming pilgrimage in honour of Our Blessed Lady.