New Salesian Cooperator
Wednesday the 17th of June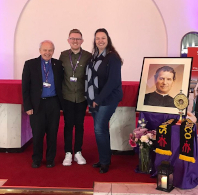 On the Feast of our Founder, St John Bosco, we welcomed our newest Salesian Cooperator as Dan Antonio made his Promise.
Dan, who teaches at Thornleigh Salesian College, made his commitment as part of the college's Don Bosco Day Celebrations during an assembly attended by the whole of year 7. Fr Michael Winstanley SDB, Rector of the Thornleigh Community, presented Dan as he promised to deepen and give witness to the Salesian Spirit as a Salesian Co-operator. Jessica Wilkinson, our Provincial Co-ordinator, received Dan's promise on behalf of the Rector Major and welcomed Dan as a Salesian Cooperator.
Congratulations Dan, Ad multos annos!