Launch of New Website
Tuesday the 7th of July
On Tuesday 7 July, the Memorial of Blessed María Romero Meneses FMA, we are delighted to launch our new website for the Salesian Cooperators in the Province of St Thomas of Canterbury (Great Britain).
Founded by Don Bosco himself, Salesian Cooperators are part of the worldwide Salesian family serving God in the young and the poor according to our own personal circumstances in life. This new website celebrates and promotes the vocation of the Salesian Cooperator and the work and witness of Salesian Cooperators around the country.
Jessica Wilkinson, Provincial Co-ordinator, said,
I am delighted to launch this new website for the Salesian Cooperators which celebrates the distinct and precious vocation of the Salesian Cooperators within the Salesian Family and the Church. I pray that it will become a great source of information and inspiration for Salesian Cooperators, those who are discerning a vocation as a Cooperator, and the wider Salesian Family.
We are grateful to Peter Richards and the team at komok web design for their support, creativity, and efficiency in designing and building this site.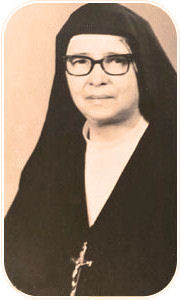 Blessed María Romero Meneses FMA,
Pray for Us!