Our Saints
The Salesian Family is blessed with many Saints, Blesseds, and men and women of heroic virtue who inspire, encourage, and intercede for us. Here we present those saintly men and women to whom the Salesian Cooperators foster particular devotion.
St John Bosco
St John Bosco, known as Don Bosco, is the founder of the Salesian Family.
Inspired by a prophetic dream, Don Bosco knew from an early age that he wanted to become a priest and dedicate his life to the service of young people. In the Industrial Revolution of 19th century Turin young people were at risk of exploitation and mistreatment and could all too easily find themselves lost and without hope. His Oratory, which found a home in Valdocco - a poor district of Turin - was a home, school, church, and playground for the young people with whom he worked.
His approach, characterised by reason, religion, and loving kindness, is known as the Preventive System and remains fundamental to the work of the Salesian Family today. At Don Bosco's oratory it is not enough that young people are loved, they must know that they are loved. His Feast is celebrated on 31 January.
St Mary Mazzarello
St Mary Mazzarello is, with Don Bosco, the co-founder of the Daughters of Mary Help of Christians, the Salesian Sisters.
Mary Mazzarello and her companions were already educating young girls in her home town of Mornese when she met Don Bosco who visited her workshop and was very impressed. When wanting to found an institute to educate girls as his Salesians educated boys, it was Mary and her companions whom he thought of. They became The Daughters of Mary Help of Christians.
Under Mary's wise and compassionate leadership the new congregation flourished, opening new houses, and sending the first missionaries to the Americas. She led by example, even in the most mundane of tasks, saying every stitch is an act of love for God. Her feast is celebrated on 13 May.
St Francis of Sales
St Francis of Sales was bishop of Geneva in the early 17th Century. He was noted for his deep faith and his gentle approach to the religious divisions in his land resulting from the Protestant Reformation. His optimistic humanism uncovered a spiritual depth within relationships, encouraging people to engage with the heart rather than through an impersonal authority. He spoke about the strength of real gentleness and the ability of a warm, consistent approach to working with people that could transform their experience of life.
Don Bosco entursted his Salesian Family to the patronage of this gentle Saint. His feast is celebrated on 24 January.
Mamma Margaret (Ven. Margaret Occhiena)
Mama Margaret was Don Bosco's mother and the first Salesian Cooperator. You can read her story here.
Blessed Alessandrina Maria da Costa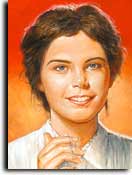 Alessandrina Maria da Costa was born 30 March 1904 in Balasar, Portugal. She was brought up in the faith by her mother, along with her sister Deolinda. She was a lively child and very popular with her companions.
At the age of 14, to evade attack from a group of men, Alessandrina leapt from a window in her home and was severely injured. Five years later these injuries would confine her to bed for over 30 years. Alessandrina offered her many sufferings for the conversion of sinners and for peace for the world. She said, "I have no other purpose than to give glory to God and save souls."
She became a Salesian Cooperator saying, "I feel a great union with the Salesians and with the Cooperators of the whole world. How often I look at my enrolment certificate and offer my sufferings, united to all of them, for the salvation of youth!"
Alessandrina was beatified by Pope John Paul II on 25 April 2004. We keep her Memorial on 13 October. Read a fuller life of Bl Alessandrina here.